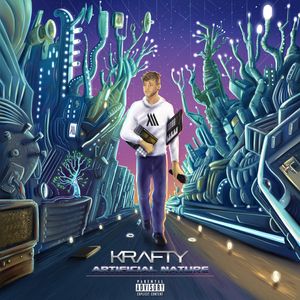 FREE DOWNLOAD FOR NEW YEAR'S DAY, 2022!
The sixth studio album from Krafty is here - and it's free!!!
__________________ 
***LIMITED TIME ONLY*** 
Due to distributors slowing the process down, you can download this album for free until it reaches all of the streaming platforms. 
Monumental Records are proud to present the sixth studio album Artificial Nature by British rapper and producer Krafty! 
Rhythmically pounding away at the beat pad and sliding across the keyboard, Krafty's latest offering features an entirely different sound altogether. Electronic and magnetic melodies sprinkled over upbeat drum patterns and deep basslines, this latest cut from Krafty is unlike anything else he's mustered up so far. 
The album is not without it's usual dash of cheeky flavour with cuts like the vulgar Gentleman and the wordplay riddled Take My Word. The singles Bread Crumbs, Run Along and More also appear here, an indication of how the year 2020 was originally set to be the year this project dropped. 
Hardcore fans of boombap hiphop will most likely pass at this offering, whereas the more open minded fan will lap up each track for the sheer creative expression they entail.