10 YEARS LATER... 
THE REMASTERED SINGLE IS HERE
I WANNA GET SIGNED
After 10 short years, the single I Wanna Get Signed is getting a re-issue. The single itself was originally recorded in 2010 at RNR Studios. After some tweaking (and the release of Gone in June, 2011), the official music video was released on 21 November, 2011 via YouTube.com/Krafty.
Since then, I Wanna Get Signed has been played on various radio stations across the world and has become a recognisable fan-favourite in Krafty playlists. 
We are now proud to present to you... 
I WANNA GET SIGNED - 10 YEAR ANNIVERSARY RE-ISSUE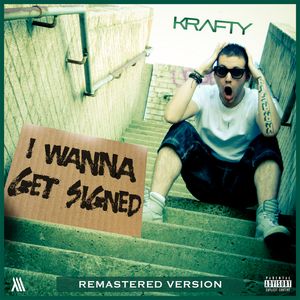 Included in the tracklist:
1. I Wanna Get Signed (Explicit)
2. I Wanna Get Signed (Alternate Clean Version)
3. I Wanna Get Signed (Instrumental)
4. I Wanna Get Signed (Acapella)
5. I Wanna Get Signed (Karaoke Version)
As well as the usual trimmings, the re-issue also includes an exclusive, previously unreleased alternate version of the clean single. This version includes a different verse and other noticeable differences in edits to the song. 
RELEASE DATE:
The I Wanna Get Signed re-issue drops exclusively on Krafty.com on 21/11/21 and doesn't hit streaming platforms until 01/12/21. 
Keep your eyes pealed on Krafty.com for more info!